Halloween is coming! No sooner have the dark nights started to creep in than the kids will be knocking on your door demanding money or sweeties in return for a little sing song. I love Halloween and enjoyed trick or treating as a youngster but what are the alternative products and services on the market at the moment for halloween? Well let me tell you...
Halloween Pumpkin Wreath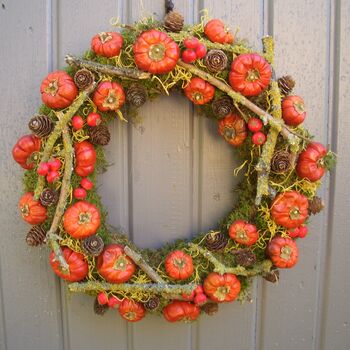 Look at this absolute beauty!! I never knew anyone did Halloween wreaths but there you go. I think this is smashing for Autumn time and will really make your door stand out. It's made from beautifully dried mini pumpkins, natural moss and foliage, you could hang it in the kitchen throughout the year as well. These are individually handmade to order and cost around £47. Last orders for
delivery before Halloween
need to be in by Saturday 22nd October.
Bluestone National Park Resort Wales
It's time for hocus pocus, creepy crawlies and revolting surprises, so make sure you enjoy these special activities running over the half term break. Join Bluestone at their terrifyingly wicked Halloween Spooktacular and experience the Adventure Centre after dark. Join the Free Rangers and visit the spooky salon for a monster makeover, test your skills at the spooky circus, play and climb inside the monster bubble, dance to the beastly beats and play a whole host of games with the Free Rangers.
Jumper Season
I love that it is fast becoming jumper season and this
Halloween jumper
has my name all over it. The hubby is always telling me I have a stroppy face, haha, and I'm dead proud of it. Really need to get my hands on this for Halloween. It goes from a size Small to XXL and retails at £24.99.
Pet Ghost
Such a cute little gift for the kids, these
glow in the dark pet ghosts
are to die for! These little ghosts are made of polymer clay that glows in the dark, they are attached to the cork in the glass vial and can be displayed almost anywhere, office / computer desk, car dashboard etc. The glass vials measure approx 6cm high x 2cm and they cost £5.25 each.